House Buyer Bureau, a client of Codespace, specializes in buying properties throughout the UK with cash funds. With a business model promoting its ability to sell houses 'fast with as little stress and hassle as possible and at a competitive price' HBB needed information systems and business processes that worked quickly and efficiently.
Simon Blunt, Managing Director, described the situation House Buyer Bureau faced in 2010: 'We set up the company and from a cold start it grew quickly. Within two years it was turning over £20M a year. We now turnover £40M. At the time we contacted Codespace we didn't have any real systems in place to manage our leads and sales and we couldn't carry on that rate of growth without a Customer Relationship Management (CRM) system.'
The problem Codespace was asked to solve was that when House Buyer Bureau received property vendor's expressions of interest by email there was no easy way staff to quickly assess lead quality and record their communications with possible vendors, agents and other 3rd parties. With each email lead, staff had to open the message and read through it to gain an understanding of a potential seller's motivation. This was time consuming and meant quality leads were difficult to identify.
Chris Hodgkinson, Sales Director, explained their predicament: 'We knew we needed to implement a CRM system that was cost-effective, flexible and that could be scaled-up to match the growth of the company. We knew what we wanted but were struggling to know who to go to. Codespace was recommended to us and on the strength of the recommendation we started working with them.'
In the early stages of requirements identification Codespace visited House Buyer Bureau's offices to gain first-hand experience of the company's day-to-day interactions with its clients. Chris commented, 'Codespace explored two options with us: either bespoke development or customization of an off-the-shelf CRM package called Salesforce. Based on an analysis of our needs Codespace recommended the option to customize Salesforce.' Chris added: 'Codespace was particularly good at looking at our business and customizing Salesforce to do all the things that we wanted to do.'
Dorothy Barker, a Property Buyer at House Buyer Bureau describes how the CRM solution helped in her role "Codespace is good at quickly understanding what we do and what our needs are, particularly how to process the large volume of enquiries we receive. I use the CRM all the time. Before, when leads came in by email, there was no easy way to see the motivation of a seller. Using the CRM I can see 50 leads per page and, at a glance, I can see their motivation. I can then focus on the most promising leads to follow up first.' Dorothy added another benefit of the customized Salesforce solution was that, "I've got the information at my fingertips and I don't have to keep clients hanging on the phone for so long. It also means I can move on to the next enquiry a lot more quickly."
We've benefitted from efficiency, which has made life easier for our staff and how they manage cases. Fantastic.
Simon Blunt, Managing Director, House Buyer Bureau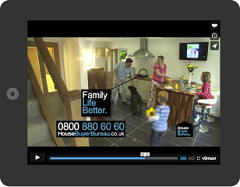 James Harrington, Managing Director, Codespace said: 'Customizing Salesforce and integrating it with the House Buyer Bureau website to capture and streamline the management of leads and sales was just the beginning for us. Codespace also re-engineered the website alongside the Web Marketing Group (WMG) to deliver improved SEO rankings and a faster web page load time for potential House Buyer Bureau customers.
The responsiveness of the service we've had from Codespace has been very good. I've called James in the evening and he's answered the phone and in a crisis he's on it straight away. I've seen how Codespace make things happen. We've really benefited from the high quality of service and support we've received from James and his team.'
Simon Blunt, Managing Director, House Buyer Bureau